Talent at the Speed of Now
The GigCX Marketplace is a cutting-edge platform for recruiting and managing global on-demand customer experience talent. Clients are drawn to us not just for our outstanding user experience and continuous innovation, but also for the unparalleled results that go beyond any other available CX talent solution.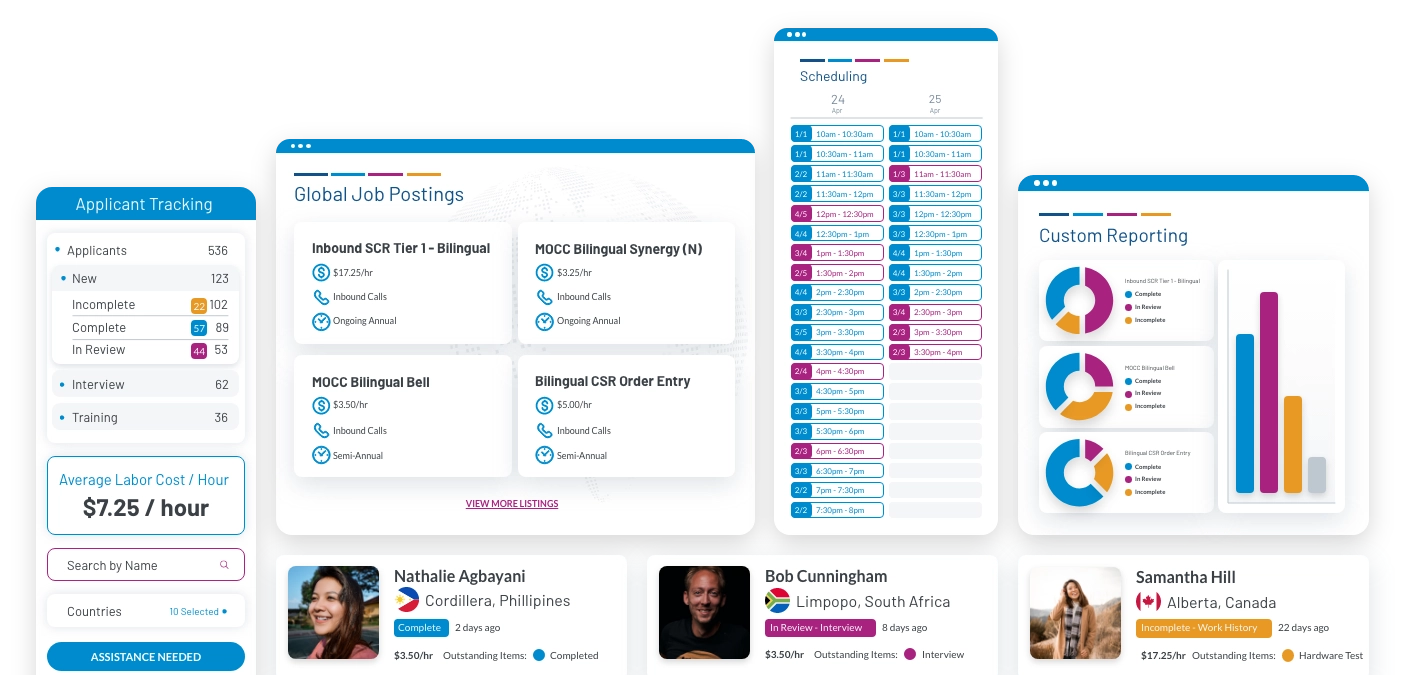 The GigCX Marketplace is trusted by top global brands like: Top Technology Enabling Top Talent
Global Expert Talent
Eliminate the searching, sorting, and vetting of talent. Our fully integrated suite of solutions enables companies access to 250K+ pre-vetted global on-demand talent at the speed of NOW.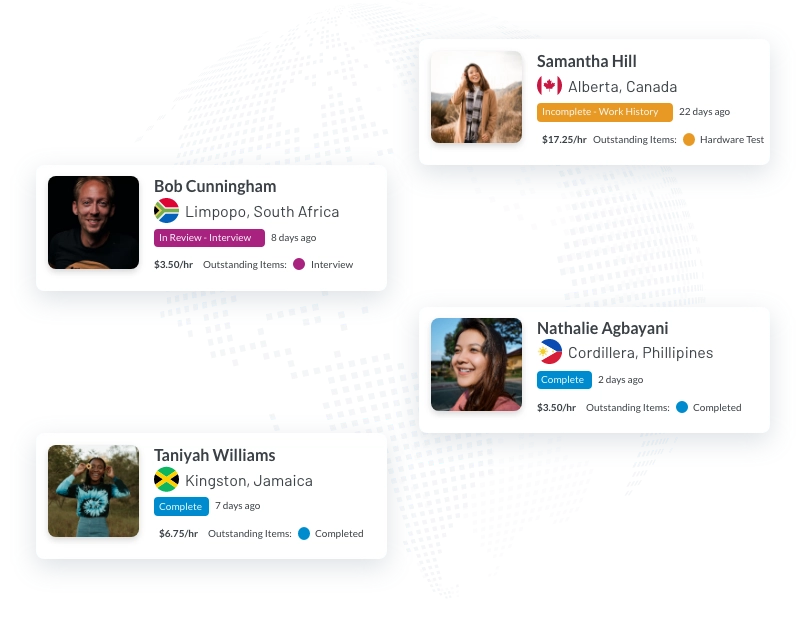 Cost Savings
Eliminate recruiting, onboarding, and hardware costs. Decrease operational expenses while simultaneously enhancing the customer experience.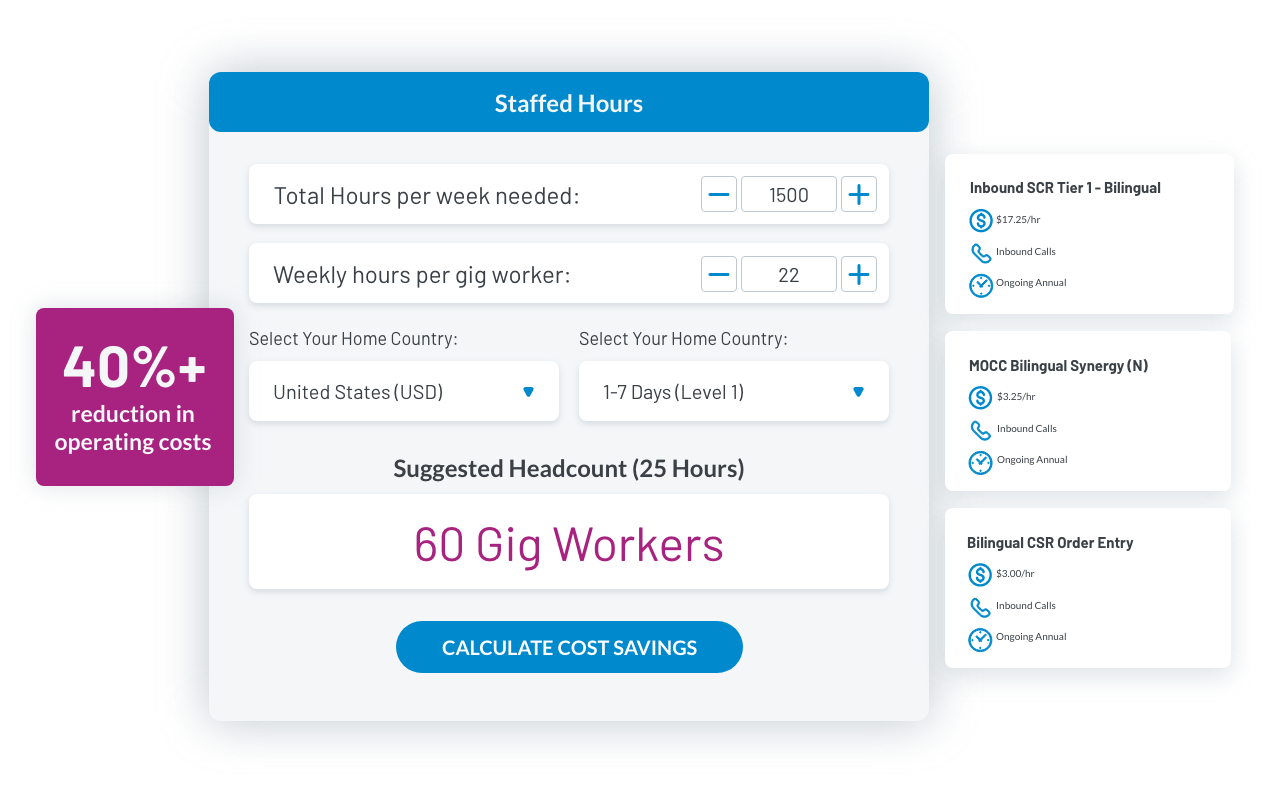 Staffing Efficiency
Improve service levels and reduce attrition with flexible staffing. Our solutions allow brands to source expert support at peak times, eliminating the need to retain additional staff.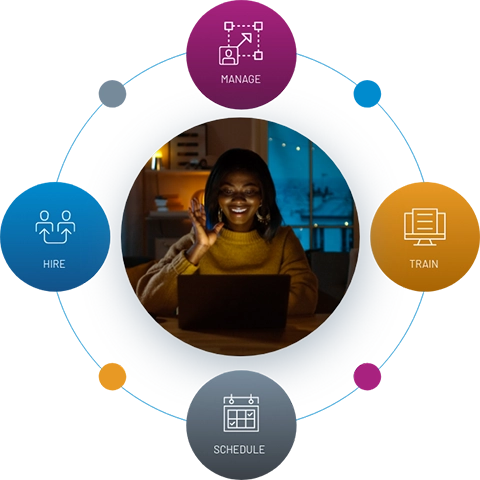 How it Works
GigCX Marketplace enables companies of all sizes to recruit, train, schedule, and manage highly skilled, on-demand global CX professionals with complete 360° visibility and control.
How It Works
Global Job Board & Talent
Our free global job board eliminates the tedious task and time needed with other talent acquisition solutions. Our network boasts 250k+ pre-vetted, on-demand brand champions ready to work today.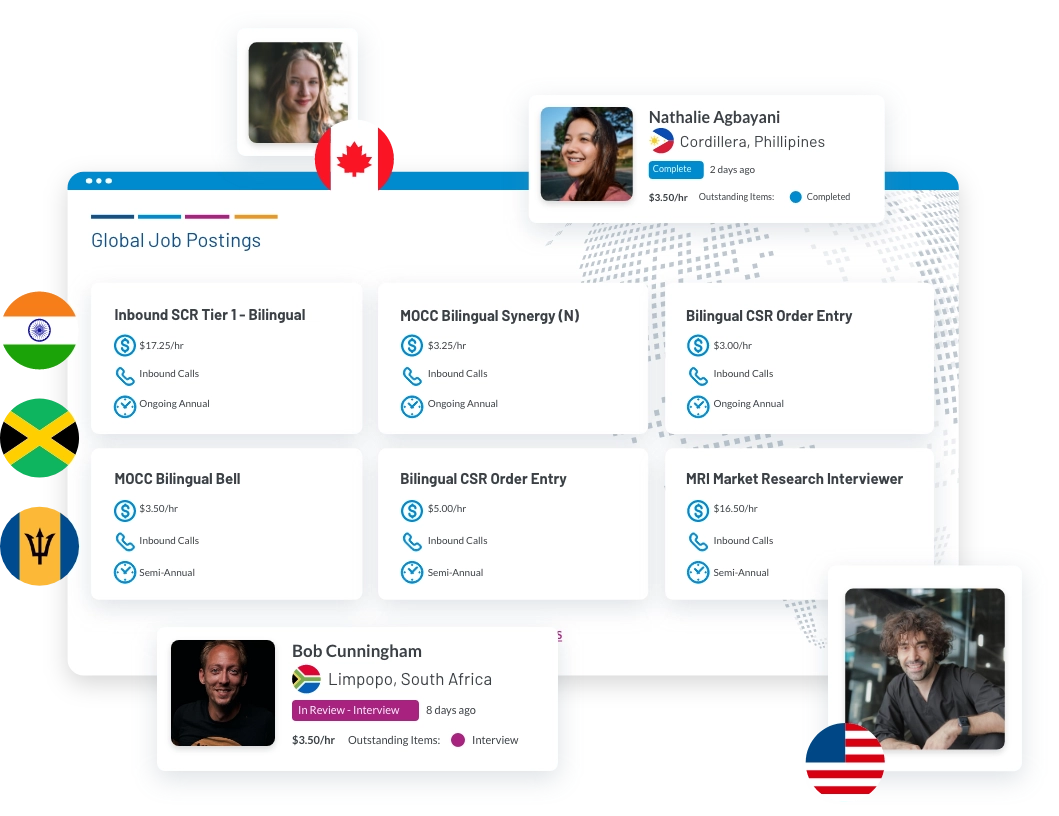 Hire & Train
Our advanced applicant tracking portal filters gig workers by pay rate, country, internet speed, language, certifications, and skillset. Listen to live voice recordings, interview, and train all within the platform, cutting hiring and onboarding time from weeks to days.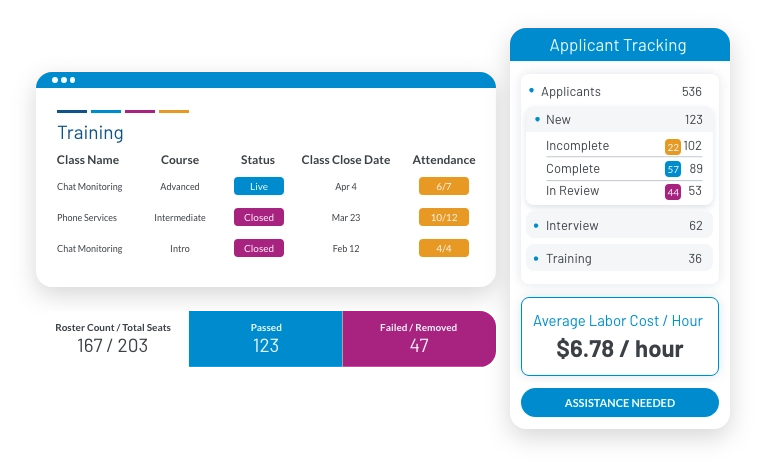 Schedule & Manage
Our intelligent remote self-scheduling tool allows gig workers to create their schedules in 30-minute increments. The built-in "notify" feature enables you to alert trained talent of new shifts, filling gaps in seconds for unforeseen call volume spikes. Through custom reporting, gain insight into real-time performance.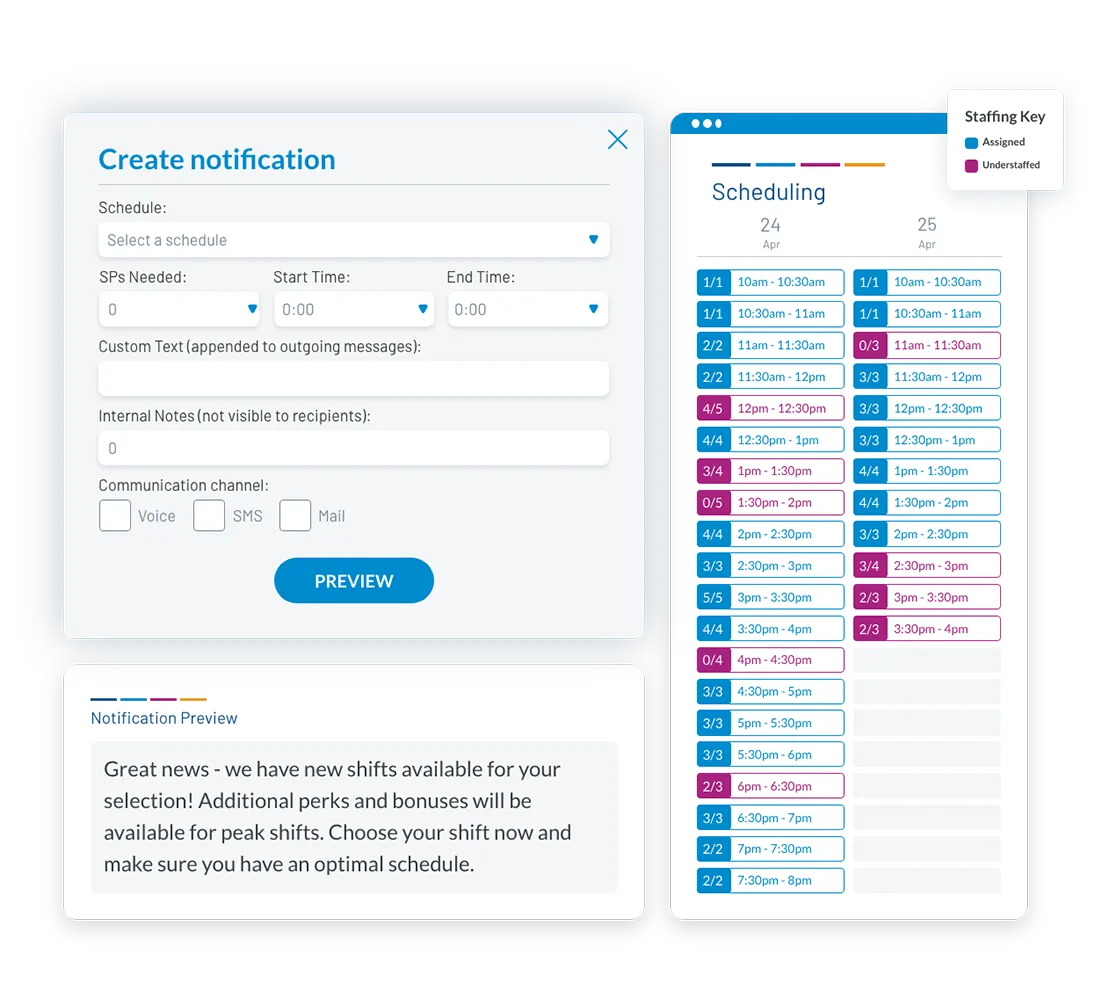 Payment System
One invoice – One Payment. Our integrated payment consolidates all your talent into one invoice, from all geos and manages all FX conversions. View global, real-time payment status and pay one master invoice.
Learn more>>>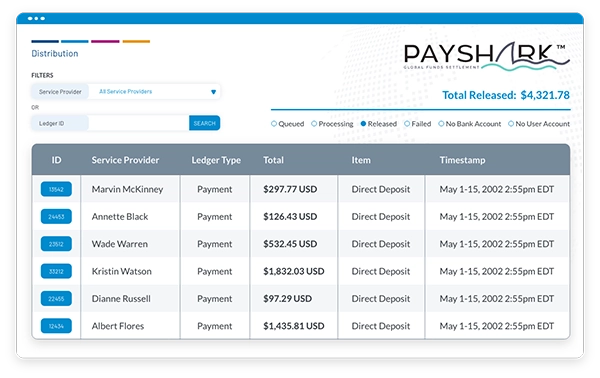 Secure
LiveXchange's SercureWorkspace technology instantly turns any hardware into a PCI Level 1 CERTIFIED device. It connects talent to your private network via our secure VPN, encrypts their connection, assures compliance, and blocks locally stored files and applications.
Learn more>>>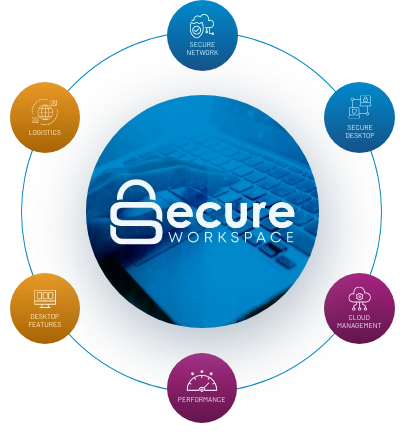 Reduce Cost and Improve Customer Service
The GigCX Marketplace helps you achieve a higher level of staffing, service, and cost efficiency. Access exceptional talent wherever, whenever and for however long you need them.
Major Automotive Business Partner
A market-leading B2B & B2C automotive services provider in North America has partnered with LiveXchange for over 12 years in providing remote agent solutions to support a variety of their client needs.
Quick Service Restaurant Case Study
A leading company in the United States Quick Service Restaurant (QSR) segment was experiencing significant problems in processing telephone orders at their locations.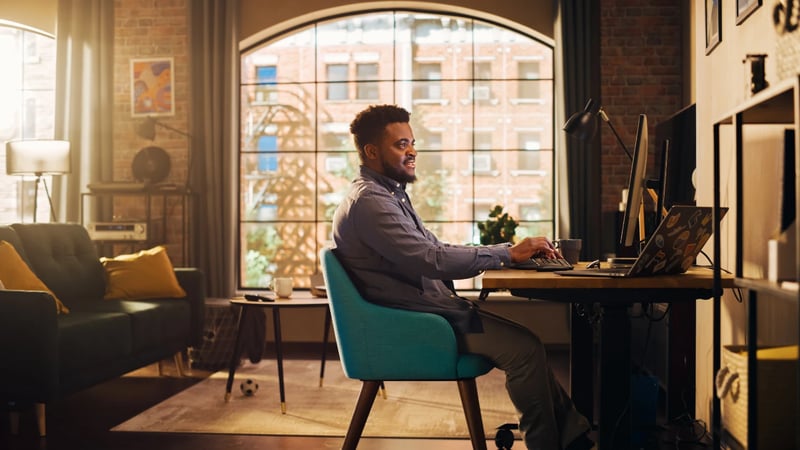 The Future of CX Talent Technology
The GigCX Marketplace solves the challenges that have faced the industry for decades. Learn more about reducing cost, increasing operational agility, and improving customer experience.